The ability to tell a good story with video is a difficult yet important skill for journalists and communicators to learn. You'll work in teams of two for this project. Let's partner up and review the instructions for Blog Post 7 – Video Storytelling.
Quiz 5 on Video Storytelling (the last quiz, woohoo!) will be on Mon. Apr. 30 during class. 
As you read this post, answer the following questions on a piece of paper:
How do you successfully PLAN a video story?
What should you remember to do DURING the video shooting when you're on-location?
What should you do if you get stuck during the POST-PRODUCTION period when you're editing?
1. Pre-Production (Before You Shoot)
Choose a story (or event!) that is well suited for video. 
This includes stories that have strong visual components and that have any sort of action.
Identify your sources.
Seek out multiple and diverse perspectives for your story.
Write preliminary interview questions after researching the story.
Plan out your questions, story focus, and narrative (i.e., beginning, middle, and end) in advance, as much as you can. However, also remember to be adaptable during the interview and ask appropriate follow-up questions.
"Show me, don't tell me" is the mantra in video storytelling.
Find a way to show a story unfolding with video. Minimize the on-camera interviews with people (i.e., "talking head interviews"). It's more interesting to watch an event occur rather than here about it from an interviewee.
Plan to shoot a variety of angles and types of shots.
For suggestions, see Production, below. But, the point here is that you are PLANNING and BRAINSTORMING and ANTICIPATING the types of shots BEFORE you're on location.
Consider how you (the reporter) will fit into the story.
Will you appear on-camera to set the scene or conduct an interview? If you'd like to try that, go ahead! Or, will you be completely invisible to the audience, just like you were during the Soundslides project and the audio profile project? Or, will you narrate the story without appearing on-camera?
2. Production (When You're On-Location)
Shooting Video With Your Smartphone
Beginner video tips when shooting with a smartphone.
Basic video tips when shooting with an iPhone.
Basic video tips when shooting with an Android.
The ONE Tip that will help you create professional video with an iPhone.
More Production Tips
Plan on shooting before and after the event (if shooting an event).
This ensures you have a variety of material to create your edited story from. Also, it helps develop a narrative of before, during, and after the event.
Shoot B-roll.
B-roll is supplemental footage that relates to your story. Be sure that the B-roll matches to what the speaker is talking about when you cut to B-roll!
For example, a video story about the the UW track team's meet should include video of athletes warming up, tying their shoelaces, talking with coaches, etc. These are the shots that you can use to fill time while an interviewee is talking or while ambient noise (e.g., background noise from the event or music) is playing. For a 2-minute story, shoot at least 30 seconds of B-roll footage.
In the image below, here's an example of a video without B-roll in example 1. The interviewee just keeps talking in every shot.
A better strategy is to integrate B-roll like example 2. Notice how there are 3 different B-roll shots between Shot 2 and Shot 6. This is an effective strategy and advocated by videographers.
Shoot on-camera interviews with your sources.
When shooting interviews, remember to look around at your surroundings. Is it relevant to the story? Can you move somewhere else to get the interview that is not as chaotic or loud?
Just as with the audio interviews, encourage your sources to relax, act natural, and provide context to the answer they are giving to your question. Don't be afraid to re-shoot a question and ask a question again. Oftentimes, the source gives a better and more eloquent answer to your question the second time you ask it.
Optional: Shoot on-camera reporters.
If you'd like to appear on-camera as a broadcaster at some point, then this project is a good opportunity to practice. You can introduce the story and provide context to the significance of the story. You can transition with your voice and appearance between story segments. And you can conclude the story and provide a summary or "what happens next" statement.
Shoot a variety of camera shots.
Whether you plan to be a visual journalist or not, you need to understand and learn how to execute the types of shots. See this website for visual examples and descriptions as we go over the definitions below.
Extreme wide shots. Shows the whole entire scene of an event, location, or story. These shots give viewers information about where the story takes place. They set the scene and give context early on in a story.
Very wide shots. Shows less background and shows the subject in the large scene. The subject is barely visible.
Wide shots. Shows the whole subject so the visual emphasis is on the subject rather than the background.
Mid shots. Shows the subject even closer, but a bit of the scene is still visible in the frame.
Medium close-up shots. Shows the subject even closer and the subject's features and expressions are more of the focus.
Close-up shots. Shows the subject's head to shoulder area.
Extreme close-up shots. Shows only the subject in the frame, such as the subject's eyes and nose.
Cut-in shots. Shows some other part of the main subject, not the face and shoulders.
Cutaway shots. B-roll that is used as transitions between shots or to add information not offered by shots of the main subject or scene.
Point-of-view shots. Shows a scene from the subject's perspective such that you feel like you are in their shoes.
Optional: Camera movement techniques.
Camera movements are more advanced production techniques. They may not work out well if you do not have a high-quality video camera. Thus, I would avoid these techniques unless you have prior experience with video or unless you have a high-quality video camera. If you decide to use camera movements, see the techniques below:
Zooming: Going from wide-angle to close-up or vice versa. DO NOT ZOOM WITH SMARTPHONES. MOVE YOUR FEET TOWARD THE SUBJECT TO "ZOOM".
Panning: Moving the camera horizontally.
Tilts: Moving the camera vertically.
Tracking: Moving the camera around accordingly to track the subject.
Composition concerns.
Give headroom so the interviewee has space above their head during the shot. Avoid distractions in the background of shots. Remember the rule of thirds still!
Be Flexible. 
No matter home much planning you do in pre-production, from deciding who you want to interview to what types of b-roll shots you want, something is bound to not go your way, or the event you're at will be different than you envisioned. Be willing to change you plan during production based on what is happening at the event in real time.
Playback Your Video While On Location Still. 
Be sure to playback your video when you're still on location. Did your phone capture audio and video in an adequate manner? Or, did you phone malfunction somehow? Do you need to take more variety of footage, now that you've seen what you captured? This is an important tip because you can't go back in time and re-capture footage once you're sitting down at the computer to edit. Remember to playback your video!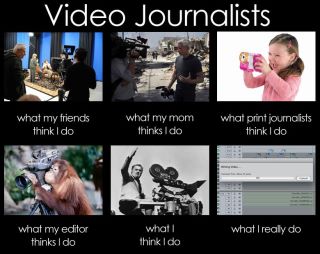 3. Post-Production (The Editing Process)
Editing programs.
USE WHATEVER IS EASIEST AND MOST EFFICIENT FOR YOU!
You have access to Adobe Premiere Pro in this lab, AG 229, as well as Ross Hall 423. Or, look here and search for PremiereProCC in the list; you'll see a list of labs with Premiere as well.
You are free to use another editing program, such as iMovie, FinalCutPro, or Windows Movie Maker. Adobe Premiere and FinalCutPro are the industry standards for video editing. iMovie is pretty good for being a standard software on a MacBook. Windows Movie Maker is pretty awful and I don't recommend it unless you have no other options.
Also, consider downloading  a trial version of Adobe Premiere. The IT building has a beautiful Mac computer in the scantron room that has FinalCutPro on it.
Technical Editing:

If you get stuck during the technical editing process on whatever platform you're using, then Google is your best friend. Of course, I'm happy to help as well. But I can't be there for you at all hours of the day. Google can!
Conceptual Editing. DO THIS FIRST!
You want to brainstorm and plan out your story before you begin with technical editing. You want to have the story flow ironed out first.
Conceptual Editing:

If you're stuck, think about how you'd tell a friend your story.

What did you start with? What else did you tell your friend? How does the story end? Also, search for sound bites that address the who, what, where, when, why, how, and so what.
The video editing process is similar to the audio editing process.
Remember the tips associated with audio editing.
Keep your story focused — it's supposed to be about 2-4 minutes.
---
Project Requirements
Below are the main points you need to consider while working on your project. I will use these elements to evaluate your work. Download the full requirements here: Blog Post 7 – Video Storytelling
At least 2 on-camera interviews
At least 5 seconds of ambient noise, natural sound, or music
Video is between 2 and 4 minutes
Video shots are diverse (see camera shots and camera movements above)
Speakers are introduced with titles and/or the speaker self-identifies themselves and/or the reporter identifies the speaker
Story has a beginning, middle, and end (narrative arc)
Video Storytelling Reminders for Journalism, PR, and Promotions
Video can be used for a variety of different reasons including journalism, PR, marketing, and advertising, and the way that you edit and shoot a video is a little bit different for each one. In each case you want to be able to tell a complete story.
Journalism: Tell the whole story from all sides. Find opposing arguments for interviews so that viewers can get facts from both sides or multiple sources with different things to say. Add b-roll that is relevant to the story even if it is not the most artsy shot it might be the most informative. See examples below.
Public Relations: In this case you will probably only be telling the story from one side, the side that the company, department, etc. is on, and you video will likely be positive, factual information about the company, etc. the b-roll shots in this type of video should highlight those positive things that the interviewee is talking about. See examples below.
Promotions: These videos are a lot like advertisements. To make an exciting promotional video, you want eye catching shots, that include whatever it is that you're promoting. A lot of the time these are artistic shots, or fast pace shots that keep the viewer engaged, and interested.
---
Video Storytelling Examples From Past Classes
Example of Public Relations Story on a Local Company – Louisa Wilkinson and Taylor Dilts
---
Example of Journalistic Story on a Non-Event – Hannah Robinson and Esther Seville
---
Example of a Promotional Story on a Local Band – Kaisha McCutchen and Bianca Coca
---
Example of Journalistic Approach with No Reporter Narration – Edward Timmons and Miranda Anderson
---
Example of Journalistic Approach  With Reporter Narrative – Jordan Blazovich and Nick Robinson
---
Example of Journalistic Approach to an Event Story without Reporter Narration – Kaitlyn Camargo and Lauren Garrelts
---
Example of Journalistic Approach to a Non-event Story without Reporter Narration – Brittany Hamilton and Scottie Melton

---
Example of Promotional Approach – Courtney Gifford, Travis Hoff, Sam Weinstein
Border War: The ROTC Story