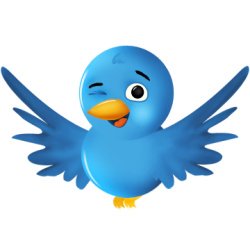 Twitter and social media are for you. The aspiring journalist, sports commentator, marketing executive, advertising director, public relations manager. You can use Twitter and social media to help you create a presence and garner an audience. No doubt, social media is changing journalism (watch a quick video about how social media changes news reporting), public relations (watch a quick video from a VP of PR), and advertising (watch a video about the challenges of social media advertising).
Let's tackle Twitter first. A video introduction.
Some uses:
Know the basics. @username, #topic, and RTs (retweets).
Share and gather information. For professional use, you can use it to quickly share and gather information real-time (e.g., promote events) with people interested in your writing, journalism, company, etc. Retweet relevant information to your field as well. Retweeting build followers.
Brand management. You can use it to hear and address praise and complaints about your writing or company. Search for your favorite (or least favorite) companies to see how they're using Twitter and Facebook.
Contribute to the community. Actively search and share information related to your field. Followers will be happy and more informed. And they may retweet, which brings you more followers.

For example, AEJMC (a nonprofit mass media association) shares valuable information about journalism, multimedia, public relations, and advertising to followers.

Start a story and use visual writing. Live events can be tweeted and facebooked while on the scene. Stories you're working on can be previewed with tidbits and snippets of writing. Direct people to the full story. Use strong verbs, adjectives, and visuals.

For example, Joanna Smith, a Toronto Star reporter covering the Haitian earthquake last January, wrote a series of earthquake-related tweets. She created an unraveling narrative through each snapshot.
"Was in b-room getting dressed when heard my name. Tremor. Ran outside through sliding door. All still now. Safe. Roosters crowing."
"Fugitives from prison caught looting, taken from police, beaten, dragged thru street, died slowly and set on fire in pile of garbage."

Engage with the community. There are live chats via Twitter. It can be a learning environment. Retweet all relevant information to your field.

For example, there are live chats on Twitter about journalism. Search for #journchat. I searched this recently and found that people were sharing the information that LinkedIn is the top social media website for journalists because it's easy to network professionally and keep tabs on potential news sources. If you're an aspiring journalist, you should strongly consider getting a LindedIn account. It's a popular way to learn about potential jobs too.
For example, ask questions relevant to your field. Laurel Papworth (@SilkCharm) asked, "Dear #PRChat PR people how is #BigData affecting your industry relationships with journalists? #Journchat #RunningScaredYet? :P"

State your opinions, but be professional. Everything you say on Twitter can be retweeted (unless you have your settings on private). Facebook profiles can be viewed (and I assume that they can be hacked too). Everything lives forever online. All of your tweets can be searched (see Topsy and SnapBird). Be paranoid about that.

For example, one student was tweeting about dislike of a professor's course and the professor engaged the student to suggest what the professor should improve. You be the judge about the conversation tone.
Student Tweets: (1) UUUGGGGHHHHHH She is working my nerves!! I hate new professors!! (2) I swear [professor's name] is too much for me! (3) Soooo I can't talk too bad about my professor on twitter anymore…because now we have to follow her ass!!
Professor: @StudentName After reading your multiple tweets about your disappointment in my teaching style, what would you recommend I do differently?
Her follower responded: Double yikes! I hope your student realizes you are also followed by PR execs who make hiring decisions…"

Represent. One tip from Intel Corporation's social media guidelines:

"Perception is reality. In online social networks, the lines between public and private, personal and professional are blurred. Just by identifying yourself as an Intel employee, you are creating perceptions about your expertise and about Intel by our shareholders, customers, and the general public-and perceptions about you by your colleagues and managers. Do us all proud. Be sure that all content associated with you is consistent with your work and with Intel's values and professional standards."

Social Media Management. Monitor social media across Twitter and other platforms with the following tools:
Now start connecting, start following, start tweeting, start your social media presence!
PS – If you're interested in using Social Media for Activism, please download a PowerPoint presentation that I made to the Good Mule conference in November 2012.